Discover more from All is Leaf
Illustration, ecology, research and growing things.
The Limits of Knowledge
👁🕸💥❄️👁❄️💥🕸👁
Hi there! It's been a little while, I hope that you're keeping well 🌞 It's my intention with this newsletter to give a mixture of longer form writing, as well as more behind the scenes activity. With that in mind, here's a bit of insight into a project from earlier this year with New Scientist magazine.
---
At the beginning of the year, I was contacted by Ryan Wills, senior designer at New Scientist about illustrations for a feature titled The Limits of Knowledge. I've previously worked with Ryan1 on other features about theories of knowledge and I believe that work had come up in design sessions when planning this feature.
The article covers a lot of ground, rich with visual and metaphorical references to draw from for the work. Black holes, chaos, protein structures, viruses, quantum entanglements, weather systems, what it feels like to be a bat… The introduction text below sums up the aim of the piece.
What came before the big bang? How do our minds work? Can we know the future? Our understanding of the universe and everything in it has reached stupendous heights, but plenty of questions remain beyond us. There are things we don't know, things we will never know and things we can't even imagine.2
The previous work of mine was also referenced in the briefing info, particularly the use of glass cases as a means of describing things that are 'inside' or 'outside' of knowledge. So I set to work towards a lead and 3 spot images.
Roughs
Having worked my way through the text, pulling out aspects to test and nudging those around sketchbook pages, I arrived at the roughs below. At this stage, I was really trying to meet the ask of the brief and the reference to my previous work, whilst also wanting to bring in more of the feel of work I've been making more recently. Something a little looser, more textured and that could be made incorporating some printing and collage processes.
Whilst working on a visual level, we felt these needed a bit more reference to elements of the text to help bridge the gap for the reader. This led to the further rough below, incorporating more of the specific details from the writing.
Process
With the all-clear on this rough, I set about making the work. As I mentioned earlier, part of this process, for me, was about bringing the feel of more recent work to an editorial process. This meant working with chinagraph, collage and monoprint to make the elements for each of the glass cases. This is perhaps a slightly long-winded way of making this work, but it also felt like a necessary indulgence and, hopefully, the work is richer for it. Below is a selection of the collages, prints and the remnants of making them.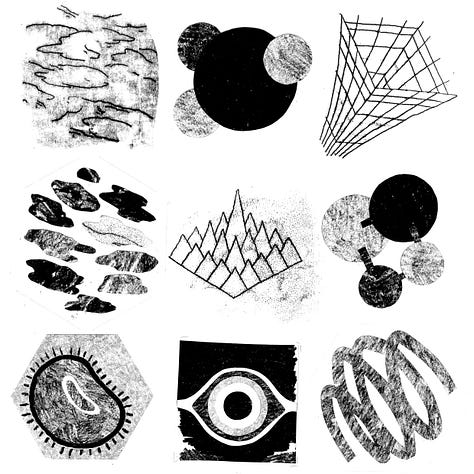 Finals
And here, with a bit of digital finishing, is the finished lead and spot images. Thanks again to AD Ryan Wills, I really enjoyed working on this one.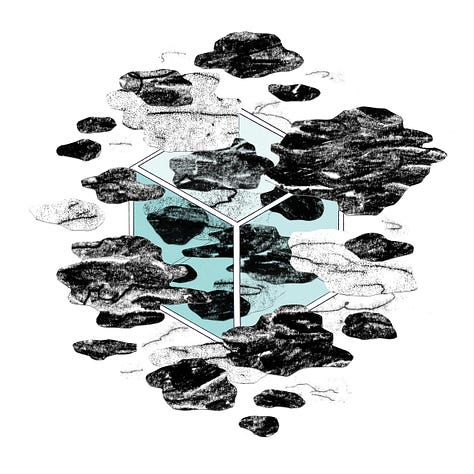 ---
Thanks for reading! Maybe the next post here won't take as long to arrive as this one. But then again, can we ever know the future?
Thanks for reading All is Leaf! Subscribe for free to receive new posts and support my work.
2
Lewton, T. (2023) The Limits of Knowledge. New Scientist, 14 January 2023. p. 38